The Crime
On 23 February 1997, Adrienne "Sunny" Sudweeks was found dead in her bedroom by her boyfriend, Richard Johnson. Johnson, a cab driver at the time, had returned to the apartment he shared with Sudweeks after completing a night shift where he found her bruised and lifeless body near the foot of their bed. Adrienne, a vibrant personality by all accounts, had been a photographer, studying at Orange Coast College in Costa Mesa, and she worked part time at a local framing and art shop.
The Investigation
Around 11pm on the night before she was killed, Sudweeks had chatted on the phone with a girlfriend before retiring. Detectives at the Costa Mesa Police Department (CMPD) believe sometime between midnight and 4am, when Johnson found her, a man entered the apartment, and proceeded to rape and strangle her before fleeing. The door to her apartment was unlocked and a window had been left open. Although Johnson would not be eliminated as a suspect for some time, CMPD detectives cast a wide net. They interviewed 200 people during the investigation, and more than 130 men provided DNA samples through saliva swabs. DNA of a potential suspect was collected from semen found on Adrienne's body, but it matched none of the 130 collected samples nor did it produce a hit in the national Combined DNA Index System (CODIS).
For years no progress was made on the case, but in April 2016, Det. José Morales of CMPD was assigned to review Adrienne's file in hopes of reinvigorating the investigation. Detectives had reviewed the case in 2009, but no new information emerged, so Morales decided to try a new tactic. During a conversation with the county district attorney's office, he had recently learned that Parabon NanoLabs could produce a prediction of the possible suspect's physical appearance using its Snapshot DNA phenotyping system. Soon after receiving the Sudweeks case, he requested authorization to use Snapshot, which would be the first use of the technology by CMPD. "It was being used to help solve tough cases elsewhere, so we hoped it might give us information to guide our efforts," says Morales.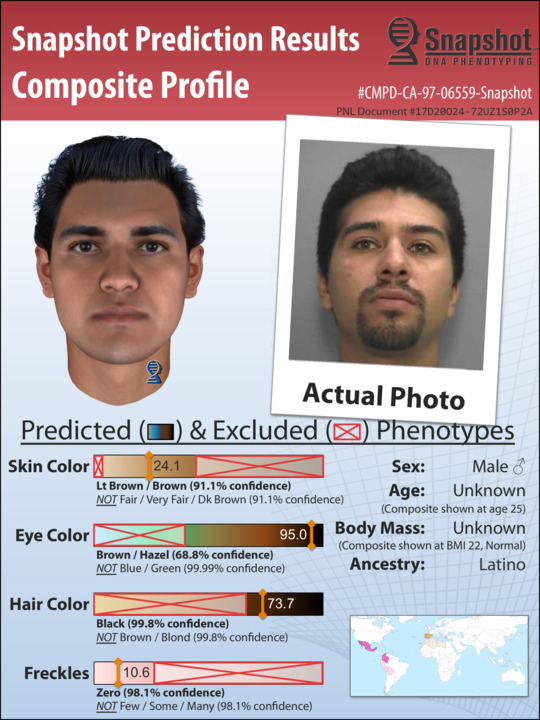 A comparison of the Snapshot composite profile and a previous
arrest photo of Felipe Vianney Hernandez Tellez.
(Copyright: Parabon NanoLabs, Inc. All rights reserved.)
Snapshot Analysis
Within weeks, Snapshot analysis of the DNA sample collected at the crime scene described a male, likely of Hispanic ancestry, with brown eyes, dark brown hair and no freckles. The Snapshot report also provided a composite image of how the man might have looked at age 25. This prediction did not fit any known suspect and it sent Morales and his investigative team back to the drawing board, leading them to reexamine all the evidence available in the case.
DNA Sketch Provides "Uncanny Resemblance" to Fugitive
In November 2016, he asked the county crime lab to rerun fingerprints lifted from Adrienne's apartment during the initial investigation. A fingerprint from the doorknob inside the northwest bedroom produced a match; it belonged to Felipe Vianney Hernandez Tellez. Tellez had been arrested for spousal abuse in 2000 and detectives were able to compare his booking photo with the Snapshot composite of Adrienne's killer. The similarity stunned CMPD detectives. Lt. Paul Beckman, Investigations Bureau Commander at CMPD, later said in a press conference, "The resemblance between the Snapshot composite and Tellez's booking photo was uncanny." The likeness suggested that the DNA from the crime scene belonged to Tellez; now police needed to prove it. Morales recalls, "We knew when we saw the booking photograph that we had found the perpetrator. Next, we needed a DNA match."
Initially, CMPD was unable to locate Tellez, but they soon learned he was likely living in Mexico. During the subsequent investigation, detectives obtained DNA from Tellez's son, who still lives with his mother in the U.S., and the county lab performed a comparison analysis. Within days, DNA analysis indicated a high likelihood that Tellez's son is related to the person who left DNA on Adrienne's body.
Seeking Extradition
Tellez, now 44, is believed to be remarried with 3 children, living in the Mexican state of Oaxaca.
On 23 February 2017, exactly 20 years since Adrienne's body was found in her apartment, authorities announced they would seek Tellez's extradition to be tried on a murder charge with possible sentencing enhancements on allegations of murder while committing rape and burglary.
Sgt. Stephanie Selinske, who oversaw the investigation said, "Extraditions like this can take years, but in the meantime, we are actively communicating our positive experience with Snapshot to other law enforcement agencies, so they can begin benefiting from the technology."